SOME INFORMATION ABOUT EMERGING POLLUTION 
THE "TOO MUCH NOISE" AT SEA
The speed of sound is 4 times higher in the water than in the air.
Low frequency sounds propagate much further than high frequency sounds.
The surface returns almost entirely the sounds it receives, it is a real "acoustic mirror"
IN SUMMARY: 
. environmental noise (bubbles, waves, rain, storms) 
. biological sounds (crunching mandibles of crustaceans, sounds of cetaceans) 
. anthropogenic noise (military sonar, oil and gas exploration, shipping and boating are the main sources)
SOUND EMISSIONS FROM CETACEANS 
. Mégaptère (vocals) frequency range 30-8000Hz, source level 145-190dB 
. Fin whale (humming): 30-75 Hz, source level 155-165 dB 
. Bottlenose dolphin (whistling): 800-24000 Hz, source level 125-173 dB 
. Bottlenose dolphin (clicks): 110-130 Hz, source level 218-228 dB 
. Sperm whale (clicks): 0.1-30 KHz, source level 210-230 dB
There is a great variety of shouts and calls, many categories of sounds (compound and complex sounds), many variations in whistles.
For comparison, the human ear supports a sound of up to 160 dB and the audible spectrum of humans is 20 Hz to 20 KHz. 
. From 80 to 90 dB: lawn mower, car horn, electric chain saw.
. From 90 to 100 dB: heavy traffic road, forging workshop, TGV at 300 km/h at 25m 
. From 100 to 110 dB : jackhammer at less than 5 meters in a street, nightclub, amplified concert 
. From 110 to 120 dB: thunder, boiler workshop. 
. From 120 to 130 dB: fire engine siren, airplane taking off (300 meters). 
. From 140 to 150 dB: Formula 1 race, take-off plane. 
. 170 dB: assault rifle. 
. 180 dB: take-off of the Ariane rocket, launch of a rocket.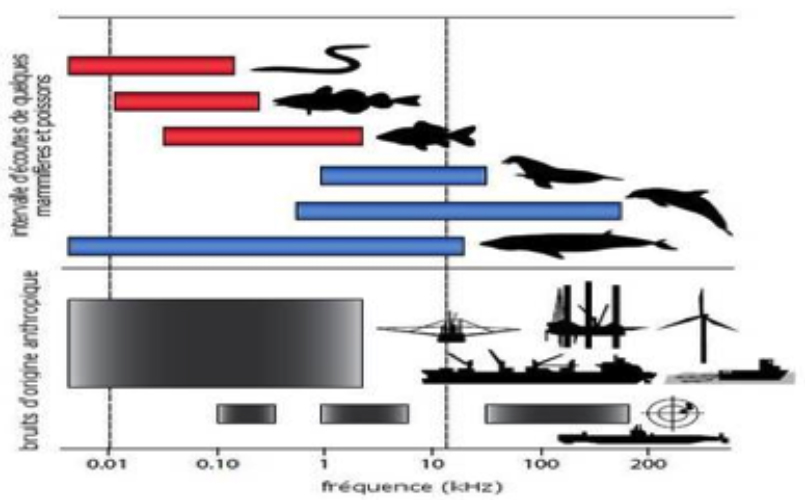 FOR 40 YEARS, THE VOLUME OF UNDERWATER SOUNDS DOUBLES EVERY TEN YEARS 
The human contribution to ocean noise pollution has increased in recent decades. 
Human noise has become the main component of marine noise in some areas and the noise is directly related to the increasing industrialisation of the ocean.
THE MAIN UNDERWATER SOUND SOURCES OF ANTHROPIC ORIGIN:
. military sonars 
. prospecting for oil and gas 
. merchant marine 
. pleasure cruising
MORE THAN TWO MILLION SPECIES POPULATE OCEANS. 
It is not possible to know the impact of noise on each species and the scientific community still lacks knowledge to understand the precise impact of noise pollution.
SOUND EMISSIONS FROM SONARS 
Sonars are used to detect submarines or other objects, they make life intolerable for whales and other marine life.
"NOISE IS SO INTENSE THAT HUMAN BEINGS WOULD NOT SUPPORT IT. IT IS COMPARABLE TO THE SUPERSONIC DETONATION OF A FIGHTER AIRCRAFT CLOSE TO OUR EARS. " Dieter Paulmann, noise specialist at «Noise Busters », describes the intensity of military sonars.
SOUND EMISSION OF AIR GUNS 
Among the worst sources of noise for marine species are the high-performance air guns used for seismic prospecting. A few seconds apart, they project sound pressures of up to 260 decibels in the waters and the marine basement to detect oil and gas deposits.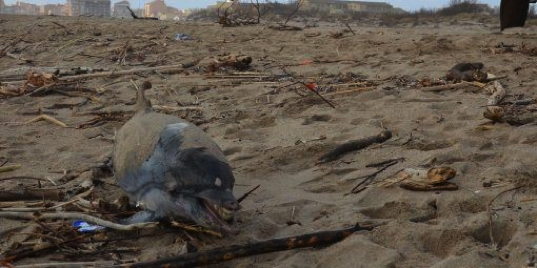 Grounded dolphin on Sérignan beach (34). 10 dolphins died that week.
Destroyed hearing organs, internal bleeding, embolism, pulmonary rupture, loss of hearing, weakening of the immune system, insufficient or no reproduction, are just some of the health problems observed in whales. 
But the underwater noise does not only harm whales. it also threatens all marine species, because most of them find their way by hearing.
PHYSIOLOGICAL EFFECTS RELATED TO ACTUAL SOUND LEVELS: 
Sound waves over 200dB cause resonance of organs, mandibles, middle ears, lungs, sinuses and cause different gravity lesions.
PHYSIOLOGICAL EFFECTS RELATED TO PERCEIVED SOUND LEVELS: Temporary or permanent deafness depending on levels (hearing threshold, each cetacean having its own sensitivity curve/audiogram) and also depending on the duration of exposure.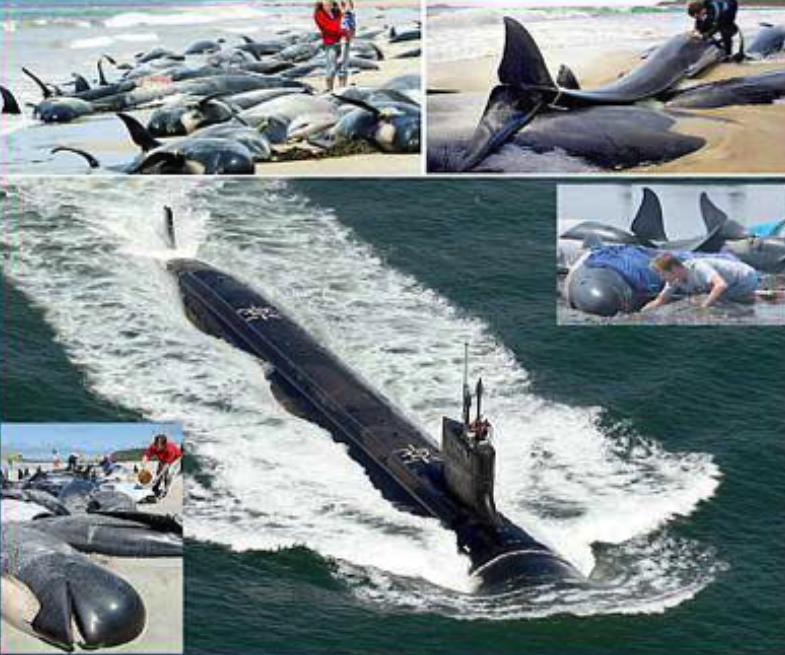 Sound waves have behavioural effects (disturbance, interruption of activity, escape, panic) that depend on perceived levels. Depending on the context, perceived levels do not need to be extremely powerful. For example, it was noted that groups of dolphins could move away from powerful sonars, but end up in a closed bay, at risk of stranding. Or dolphins isolated from their group (infants) and unable to move in the right direction may have been subjected to extremely high noise levels that lead to death.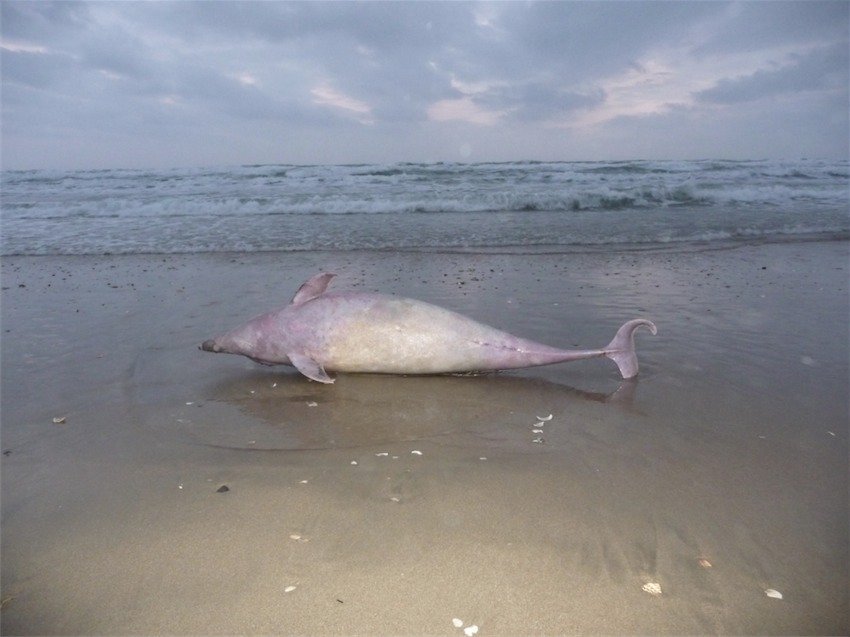 SOUND EMISSION FROM MERCHANT SHIPS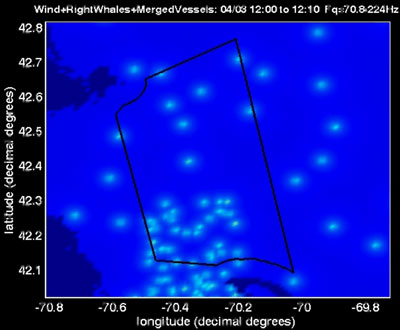 Blue represents the natural background noise of the oceans, the clearest points represent the song of right whales.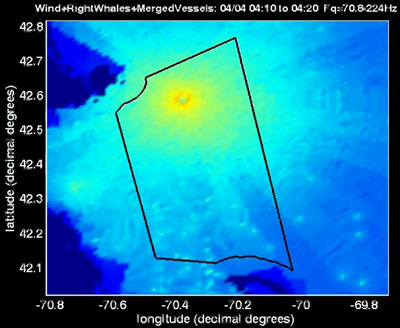 This map shows the sound of a single commercial boat entering a port. The small light dots are lessened by the sound of this boat.